Congratulations Half Marathoners! I am so happy that you have completed 12 poems in 12 hours! That is wonderful. Thank you for joining us in this madness.
In the past I have personally verified that everyone who applied for a certificate was eligible and then I would make a certificate. That is not possible this year and so we will be operating on the honor system.
If you completed the Poetry Half Marathon please consider the following certificate yours, to update with your name, to print if you choose to do so. If you need any help altering the certificate please email me at poets@thepoetrymarathon.com
Click on the link below and save the PP (the powerpoint file) to your computer, add a text box. Type in your name, save as a JPEG.
Here is a direct link to the Powerpoint for editing.
The visual example of what the certificate will look like is right below this text.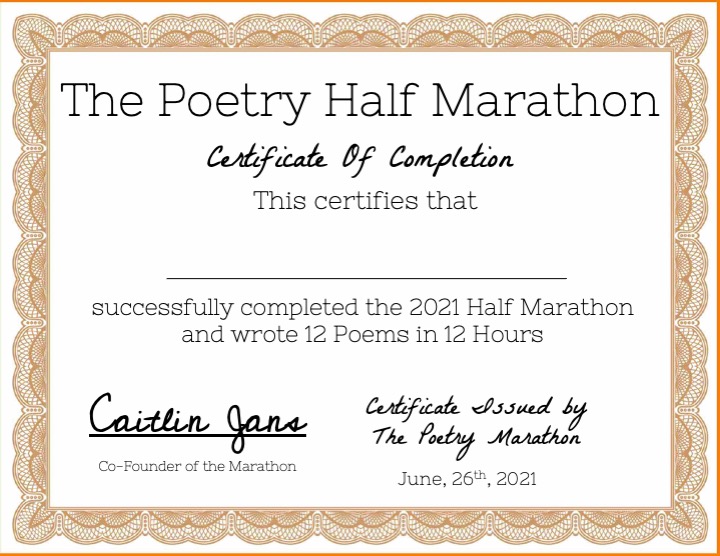 Also this year we will be putting together a 2021 Poetry Marathon Anthology.
Submissions will open July 6th and stay open till the 25th.
Full anthology submissions details will be available on the 6th. All submissions must be written during the 2021 Poetry Marathon.
Digital copies will be made available for free to any contributor. Print copies will be available for a reasonable price and any money that is made from them will go towards covering the cost of the marathon.
Want to know what the 2020 Poetry Marathon Anthology was like? Pick up your copy here.